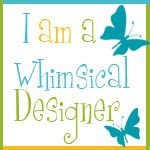 I am so very excited and very honored to announce that
Stephanie
has invited me to be a part of her
Whimsical Wednesday
Design Team! I love the fun challenges they hold every Wednesday and her team is absolutely amazing! They are so talented and very encouraging! If you have never been there before, you must stop by and check it out (and if you have been there, you know how fantastic they are)!! Wait until you see the love and talent on the team she has chosen! On Friday July 8th we are going to be having a super fun and very special B
log Hop!
Please join us...the fun will start at 7:00 pm EST!!
Also, the challenge this week is so touching and such a powerful reminder of what we as a crafting community can do for the good of others! This week the DTs came together to make cards for a very special little boy named Angelo. He is the 15 month old grandson of Margie, from
Bella Bug Creations
and
he just underwent brain surgery to remove a tumor. You can read more about Angelo on
Margie's blog
. The Whimsical Wednesday team is challenging everyone to create Get Well cards to send to this amazing little guy to bring cheer to him and his family! As a mother of three, I feel so fortunate and I thank God that my children are healthy! I cannot even begin to imagine what their family is going through! I plan on working on my card this weekend and getting it sent off. The challenge details are available at
Whimsical Wednesday
and I hope everyone can find the time to create a very special Get Well card for Angelo!
Stop by Stephanie's blog
Always Crafting
and welcome the rest of the new Design Team! Thank you for stopping by today and thank you so much
Stephanie
for this amazing opportunity!!